We use a 17 step gutter cleaning process to ensure your gutter is free of debris and water is flowing through your gutter system. 
Gutter cleaning is one of the most important home maintenance services needed and it is often overlooked until gutters are overflowing and possibly causing damage. Preventative maintenance is the most efficient way to prolong the life of your gutters, roof, windows and siding.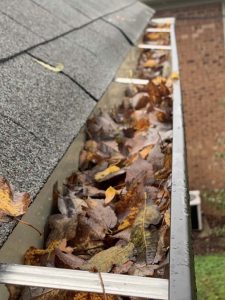 Gutter cleaning services includes:
• Cleaning all debris from gutters, downspouts, and all accessible roof areas
• Making sure the gutter and downspouts are draining properly
• Cleaning up all gutter related debris off the ground
• Additionally, you can request a bagged gutter cleaning at additional cost. (We aim to provide quality service for all customer needs)
Upon completion of our service, we will leave an invoice on your door and give a confirmation call to let you know the job was completed. Most gutter cleaning jobs fall within the range of $125 to $275 depending on a number of variables: size of the home, height of the house, roof slope and the landscaping around the house.