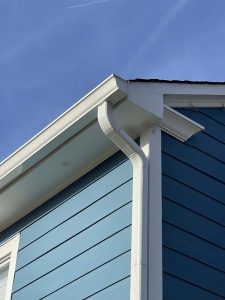 Proper gutter system design ensures that your gutters are not only functional, but that they also compliment the architecture and style of your home and landscaping. Gutter systems should be designed so that the water in your gutters is properly dispensed away from your home's foundation.
Concord Gutter Service offers professional gutter system design and customized gutter installations, including 5î and 6î K Style seamless and 5î and 6î Half Round Style aluminum, copper and zinc gutters. We use only premium quality materials so that your gutters look better and last longer. We use 0.032 gauge aluminum for gutters, steel triple galvanized hex screws for hanging gutters and 0.024 gauge aluminum with painted stainless steel screws for downspouts. Our gutter materials have a 20-year warranty, but we contend that our gutter systems can last 30 years or longer.
What is a Seamless Gutter?
A seamless gutter means that a straight gutter is made of one continuous piece of material. There are still seams on corner miters, downspout outlets and end caps. Seamless gutters are more durable because seams tend to weaken the gutter over time and can cause water leaks in as little as 10-15 years after installation. The seam sealer that is used can crack due to the constant expansion and contraction of the metal and may have to be resealed from the inside with a special high-quality gutter sealer.
Copper vs. Aluminum
When it comes to functionality, it doesnít make a difference whether you use copper or aluminum. The difference is that aluminum is cost effective and provides a neat, clean look. Copper is very expensive but may be desirable on certain buildings to provide a distinctive classic look as it takes on the color of its greenish patina over time.